http://english.prescrire.org/en/SummaryDetail.aspx?Issueid=124
Prescrire is a non-profit continuing education organisation, committed to better patient care
Prescrire and Prescrire International provide independent information, by and for healthcare professionals.
For nearly 30 years, Prescrire has provided healthcare professionals – and via them, patients – with the clear, comprehensive and reliable information they need about drugs and therapeutic and diagnostic strategies.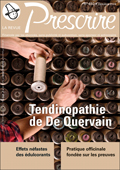 Prescrire publishes a monthly journal in French, and an international edition in English 11 times a year, plus a yearly supplement in French devoted to drug interactions.
Prescrire is a fully accredited continuing education organisation, and offers continuing education and professional practice improvement programmes specifically adapted to the needs of healthcare professionals.
A non-profit organisation, Prescrire is wholly financed by its subscribers, and accepts no advertising or other outside support.